Get After It with Olympian Carrie Tollefson! Each week, Carrie and a different celebrity guest discuss running, fitness, and how to live a healthy, balanced life as a runner.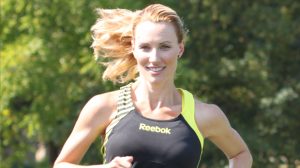 Carrie Tollefson is an elite middle distance runner from St. Paul, Minnesota.
Carrie was born and raised in Dawson, Minnesota where she was a 13-time State Champion: eight in track and five in cross country. Her five cross country titles established a national record for most consecutive titles, which still stands to this day. Carrie attended Villanova University, where she was a 5-time NCAA Champion and the 1998 NCAA Indoor Track Athlete of the year. She was also the first person in NCAA history to win both the 3K and 5K titles.
In her post collegiate career, she was a three time national champion and after winning the 1500m trials in 2004, she represented the US in the 2004 Olympic Games in Athens, Greece.
Carrie was voted the Fourth Most Beautiful Athlete in the World by Sports Illustrated in 2006 and has graced the cover of numerous magazines, including Track & Field News, Running Times, and, most notably, five covers of Runner's World.
Carrie has worked on-camera with ESPN, NBC, NBCSN, ABC and USATF.tv. She does regular media coverage for the New York Road Runners including the TCS NYC Marathon and the United Airlines NYC Half Marathon. Carrie has done commentary for several world class events, including the Medtronic Twin Cities Marathon, Boston Marathon, Tokyo Marathon and Foot Locker Nationals. She is also the spokesperson and on camera talent for Minnesota Grown.
Currently, Carrie lives and trains in her home state of Minnesota with her husband Charlie and their three children: Ruby, Everett and Greer. She inspires and motivates people to GET AFTER IT in life through her public speaking and training camps.
Visit carrietollefson.com to learn more about Carrie or to get in touch with her.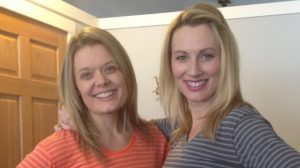 Julie Heaton is a critically-acclaimed film and theatre director from St. Paul, MN.
Julie grew up in St. Paul, Minnesota and has been involved in the running community from a very young age, helping her Dad direct and time races around the country with Mtec Results. She attended Hamline University, where she studied Theatre and K-12 Education.
Julie found her love for film and video production working on C Tolle Run. She is also a freelance theatre educator and director, primarily working with the Youth Performance Company in Minneapolis. She runs occasionally, but her true love is rollerblading, as she has completed 5 Northshore Inline Marathons.
Julie lives in Roseville, Minnesota with her husband and their dog.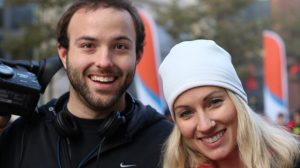 Tim Bornholdt is an award-winning editor and videographer from Minneapolis, MN.
Tim's work has been featured on several local and national television stations, including Fox Business Channel, CNBC, WCCO-TV and Fox Sports North. He has shot and edited videos for a diverse range of clients, including the National Academy of Television, Pepsi, the Minnesota Wild, the Metropolitan Council and Unilever.
In addition to his video production skills, Tim is a talented software engineer. He built and maintains the C Tolle Run website, and educates Carrie and Julie about anything technology related. He also co-founded The Jed Mahonis Group, a Twin Cities-based mobile app development company specializing in building on-demand mobile apps for businesses and entrepreneurs.
While he's no Carrie Tollefson, Tim is an avid runner, and he recently completed his first 50 mile race. He's also passionate about entrepreneurship, beer and podcasting. Tim lives with his wife and daughter in Minneapolis, MN. You can learn more about Tim by clicking here.
Save
Save
Save
Save
Save
Save
Save
Save
Save
Save
Save
Save
Save
Contact Me